eBook Where the Crawdads Sing by Delia Owens download and read online
08/20/2019 | by
admin
#1 New York Times Bestseller
A Reese Witherspoon x Hello Sunshine Book Club Pick

"I can't even express how much I love this book! I didn't want this story to end!"–Reese Witherspoon

"Painfully beautiful."–The New York Times Book Review

"Perfect for fans of Barbara Kingsolver."–Bustle
Read online and download eBook Willing to Die by Lisa Jackson in pdf, epub, mobi, rtf and docx
Where the Crawdads Sing by Delia Owens details:

File Size: 3829 KB
eBook: read online and download ebook
Format ebook: pdf, epub, mobi, rtf, docx and audiobook
Print Length: 379 pages
Page Numbers Source ISBN: 0735219095
Publisher: G.P. Putnam's Sons (August 14, 2018)
Publication Date: August 14, 2018
Sold by: Amazon Digital Services LLC
Language: English
ASIN: B078GD3DR
eBook summary Where the Crawdads Sing by Delia Owens (read online book…)
For years, rumors of the "Marsh Girl" have haunted Barkley Cove, a quiet town on the North Carolina coast. So in late 1969, when handsome Chase Andrews is found dead, the locals immediately suspect Kya Clark, the so-called Marsh Girl. But Kya is not what they say. Sensitive and intelligent, she has survived for years alone in the marsh that she calls home, finding friends in the gulls and lessons in the sand. Then the time comes when she yearns to be touched and loved. When two young men from town become intrigued by her wild beauty, Kya opens herself to a new life–until the unthinkable happens.
Perfect for fans of Barbara Kingsolver and Karen Russell, Where the Crawdads Sing is at once an exquisite ode to the natural world, a heartbreaking coming-of-age story, and a surprising tale of possible murder. Owens reminds us that we are forever shaped by the children we once were, and that we are all subject to the beautiful and violent secrets that nature keeps.
Although this is Delia Owens' first novel, she long ago distinguished herself as a gifted writer. In the mid-80s, Owens co-wrote with her husband Cry of the Kalahari, which was a best-selling, nonfictional account of traveling and researching Africa's Kalahari Desert. One of the joys of that book was the Owens' description of the natural world, and Where the Crawdads Sing is immersed in the natural world as well. The story is set in the 1950s and revolves around a young woman named Kya Clark, who is from extremely rural North Carolina. Known by others as the Marsh Girl, she lives alone in nature—but the draw of other people, and specifically love, brings her into contact with the greater world. This novel has a mystery at its core, but it can be read on a variety of levels. There is great nature writing; there is coming of age; and there is literature. Crawdads is a story lovingly told—one that takes its time in developing its characters and setting, and in developing the story. You'll want to relax and take your time as well, and when you're done you will want to talk about it with another reader. – Chris Schluep , Amazon Book Review
"A painfully beautiful first novel that is at once a murder mystery, a coming-of-age narrative and a celebration of nature….Owens here surveys the desolate marshlands of the North Carolina coast through the eyes of an abandoned child. And in her isolation that child makes us open our own eyes to the secret wonders—and dangers—of her private world."—The New York Times Book Review
"Steeped in the rhythms and shadows of the coastal marshes of North Carolina's Outer Banks, this fierce and hauntingly beautiful novel centers on…Kya's heartbreaking story of learning to trust human connections, intertwine[d] with a gripping murder mystery, revealing savage truths. An astonishing debut."—People
"This lush mystery is perfect for fans of Barbara Kingsolver."—Bustle
"A lush debut novel, Owens delivers her mystery wrapped in gorgeous, lyrical prose. It's clear she's from this place—the land of the southern coasts, but also the emotional terrain—you can feel it in the pages.  A magnificent achievement, ambitious, credible and very timely."—Alexandra Fuller, New York Times bestselling author of Don't Let's Go to the Dogs Tonight

"Heart-wrenching…A fresh exploration of isolation and nature from a female perspective along with a compelling love story."—Entertainment Weekly
"This wonderful novel has a bit of everything—mystery, romance, and fascinating characters, all told in a story that takes place in North Carolina."—Nicholas Sparks, New York Times bestselling author of Every Breath

"Delia Owen's gorgeous novel is both a coming-of-age tale and an engrossing whodunit."—Real Simple
"Evocative…Kya makes for an unforgettable heroine."—Publishers Weekly

"The New Southern novel…A lyrical debut."—Southern Living

"A nature-infused romance with a killer twist."—Refinery29
"Anyone who liked The Great Alone will want to read Where the Crawdads Sing….This astonishing debut is a beautiful and haunting novel that packs a powerful punch. It's the first novel in a long time that made me cry."—Kristin Hannah, author of The Great Alone and The Nightingale
"Both a coming-of-age story and a mysterious account of a murder investigation told from the perspective of a young girl…Through Kya's story, Owens explores how isolation affects human behavior, and the deep effect that rejection can have on our lives."—Vanity Fair
"Lyrical…Its appeal ris[es] from Kya's deep connection to the place where makes her home, and to all of its creatures."—Booklist
"This beautiful, evocative novel is likely to stay with you for many days afterward….absorbing."—AARP
"Compelling, original…A mystery, a courtroom drama, a romance and a coming-of-age story, Where the Crawdads Sing is a moving, beautiful tale. Readers will remember Kya for a long, long time."—ShelfAwareness

"With prose luminous as a low-country moon, Owens weaves a compelling tale of a forgotten girl in the unforgiving coastal marshes of North Carolina. It is a murder mystery/love story/courtroom drama that readers will love, but the novel delves so much deeper into the bone and sinew of our very nature, asking often unanswerable questions, old and intractable as the marsh itself. A stunning debut!"—Christopher Scotton, author of The Secret Wisdom of the Earth

"A compelling mystery with prose so luminous it can cut through the murkiest of pluff mud."—Augusta Chronicle
"Carries the rhythm of an old time ballad. It is clear Owens knows this land intimately, from the black mud sucking at footsteps to the taste of saltwater and the cry of seagulls."—David Joy, author of The Line That Held Us.
WHERE THE CRAWDADS SING is a gentle yet symbolic depiction of the valiant survival of Kya Clark—a reclusive young girl who has been abandoned by her parents, siblings, school system, the entire town surrounding her, and what ultimately feels like life itself.
Mother Nature has literally become Kya's caretaker, and deep in a lonely Marsh along the North Carolina coast is where Kya will not only hide, but blossom into a primal independent being, coaxed inside the loyal embrace of an indiscriminate wilderness as she embodies its uninhibited spirit.
Until a young boy from "yonder" befriends Kya, and her lonely existence is shaken straight to its solemn core. Add to that the curious unsolved murder of the town's local "Golden Boy", and all that's left to say is GAME. ON.
Although this story delivers one hell of a powerful punch, it is sculpted with quite a humble hand; a delicate wind that keeps building and building until it ends up emphatically blowing your mind.
The writing. The Writing …Prose so unique; so breathtaking; so utterlybeautiful that a single description of a firefly suddenly grows so intimate and probing, and I might have gotten something in my eye—*sniff*.
Here you'll find sentences that read like poetry, with a lyrical rhythm that sways the reader like the gentle rocking of a boat. Yet it is not showy over 0ver-the-top — but perfect.
Owens doesn't tell us what to think, but alludes to each message through writing so alive you can almost hear it breathing. She carries us through her dense, atmospheric tone and persuades us to seek and find; discover and examine, all on our own.
She allows her striking imagery to guide us as the marsh has guided Kya, and I felt as though I could smell the sea and taste the sweetness of new love.
Kya's journey spans years, the reader present from her childhood into maturity. I love this story's ode to wilderness and Mother Earth with all her glorious wonder; her instinctual need to nurture and protect. I love each character's flawed nature as well as those redeemed. I love the heart and soul that saturates every inch of this story, and more than anything, I LOVEthat spectacularly bold ending!
There were a few tedious moments where I thought this story might begin to drag and possibly not live up to its hype, but I was wrong, and this story was so, SO right.
To the reader who appreciates nature's effortless beauty honored in fiction; to those who seek a love story every bit true as it is tender; to the one who needs a tantalizing murder/mystery to spice things up, and for those who tend to root for the underdog in hopes she'll someday sparkle like the gem she is—this one's for you.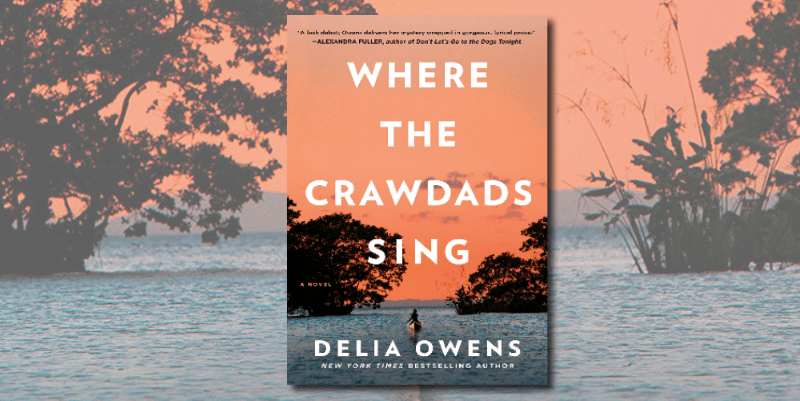 All the Stars!!!!!
Can I just say that I loved everything about this book and leave it at that!?!
Where the Crawdads Sing is a story of resiliency, survival, hope, love, loss, loneliness, desperation, prejudice, determination and strength. This book goes back and forth in time to tell the story of Kya Clark a.k.a. the Marsh girl. She lives on the outskirts of town, in the Marsh, and the locals look down their noses at her, she is judged, ridiculed and bullied. But there are those who show her kindness, friendship, and show her love. Oh, how I loved this book!
Kya was a young girl when her Mother walked away without looking back. Soon, all her siblings followed suit, leaving Kya alone with her often absent, drunk, and abusive father. She is left to care for their home, to cook, clean and take care of both of their needs. How her situation pulled on my heartstrings. She had to learn to shop, to cook and to provide food for herself in her father's absence. All while dealing with loneliness, feelings of abandonment and loss. Always wondering when and if her Mother will ever return. She was a smart and clever girl who knew the marsh and found ways to make money and provide for her basic needs. Soon 'Jumpin and his wife, Mable, show her kindness, generosity and love. I dare you not to adore this couple!
As Kya grows and learns more about life through her interactions with the creatures of the Marsh, two young men enter her life. One is her brother's older friend, Tate, who teaches her to read and shows her acceptance and happiness. Another brings her hope of a future but won't introduce her to his friends and family. Could one be her chance at happiness? A chance at belonging? A chance at being accepted? A chance at being loved? A Chance for growth? Or will history repeat itself?
In 1969, local football legend, Chase Andrews is found dead. Rumors swirl as to motive and possible suspects. Rumors have been circulating for years about Chase and his involvement with the Marsh girl. Could she be his killer? What motive could she have?
This book had a little bit of everything that I love: a likeable main character who pulls at your heartstrings, murder mystery, atmosphere, drama, coming of age, and romance. There are several characters who give and show kindness including, Tate, the cashier who gives back too much change and the couple who make sure Kya has what she needs. What is the saying? Those that have the least to give, give the most! There is a police investigation and court room drama and some twists and turns I did not see coming.
This book is beautifully written and contains poetry and vivid descriptions of the Marsh. I highly recommend this book! It's thoughtful, evokes emotion, and transports the reader back in time to the Marsh. I loved every page.
You know that person? The one who doesn't like what everyone else seems to love? There has to be someone in the outlier club and this time it is me. I was highly anticipating this book after reading all the praise from readers whose tastes usually align with my own. Unfortunately, I should have DNF'd this one when very early in the book, my eyes glazed over and I began skimming pages and pages of descriptive writing. The author is a nature writer and those sections were undoubtably well-written. But I don't care for overly descriptive writing. And then there's poetry. I skipped over those as well.
Everything other reviewers say they enjoyed were things I intensely disliked. I struggled with believability. I won't list them all, but the implausibility of every single plot point was something I couldn't get past.
To make things worse, romance is not a genre I enjoy and the romance in this book had a very YA feel to it.
Finally, I found the use of dialect distracting to read and often in the same paragraph a character would switch from local dialect to proper English.
Sometimes my love of the story or the strength of the writing is enough for me to ignore implausibility and move past a few things I don't like. This wasn't one of those times.
Recommended for readers who enjoy long, descriptive nature writing, and those who have no trouble suspending disbelief. If I had known these things before starting this book I would have skipped it, so perhaps my review will help other readers like me.
* Thanks to Edelweiss for a copy of this book in exchange for an honest
» 4.53 across 160,000 ratings on Goodreads.
» 400+ holds at my library (I actually had to buy this).
» #1 on the Amazon charts.
» On virtually every Book Club's reading list.
…and I can't finish it.
I'm sorry. I do realise with those numbers it is definitely me. I read all of Part 1 and the first chapter of Part 2, then I gave up at page 156. Nothing seemed to be happening other than Kya fishing and cooking grits. There are lots of pretty nature metaphors like:
Waves slammed one another, awash in their own white saliva, breaking apart on the shore with loud booms— energy searching for a beachhead. Then they flattened into quiet tongues of foam, waiting for the next surge.
But I just don't enjoy descriptions of trees, swamps and bugs that much.
It's funny. Usually when a book doesn't float my boat, I can still totally understand the hype. I wouldn't have called this one, though, I must admit.
4.5 stars rounded up .
A story of survival, of what the depth of loneliness feels like when a young girl is abandoned first by her mother, then her four siblings. Even at five Kya understands why they left – because of her father, because of his meanness, his abuse, his drinking. What she doesn't understand is why they left her behind and neither could I. She remains pretty much alone since her father comes and goes until he doesn't come back. It was gutting as she sits on the beach with the gulls not wanting them to fly away and leave her too. Heartbreaking how she is neglected and abandoned, remembering the beatings, trying to figure out a way to eat.
Atmospheric is an understatement, and I don't use that word often because it seems overused sometimes but this place, the marsh permeates just about everything that is meaningful in this story beginning with Kya's realization "And the marsh became her mother." The marsh becomes her life, her livelihood, the essence of who she becomes through her self learned expertise of the insects and the birds, her art. But is it enough to heal her? The kind hearts of Jumpin' and Mabel who help a little girl alone and in need, the only human contact she has until her brother's friend Tate comes into her life, but is that enough to help her heal ? I love the writing, fabulous descriptions of the marsh. The marsh and its inhabitants, the insects, the fish, the birds which pique Kya's curiosity, give her so much joy and company, and allow her to become the expert she does become on the marsh and marsh life. But is that enough to make Kya whole after so much hurt and loneliness?
There's a murder mystery, not my usual fare, but I was totally engaged, trying to come up with who the murderer was, totally engaged in the courtroom scenes. I gave it 4.5 stars because there were a couple of things that felt not quite realistic. But when I woke up thinking about this story, I knew I would round it up to 5 stars . I don't often cry over books, but this one definitely brought me to tears at a number of places. Overall it was such a fabulous read, heartbreaking in so many ways, with wonderful writing and characters, a stunning portrait of a place, of the trauma of loss and loneliness. My heart was always broken for Kya, a character to remember. An unforgettable ending.
This was a monthly read with Esil and Diane and as always I appreciate their thoughts as we read together. In this case, we have very similar feelings about this beautiful story.
I received an advanced copy of this book from G.P. Putnam's Sons through Edelweiss.
All of you talked me into reading this book. The Goodreads reviews were virtually unanimously good, not just good, great. It had to be good, I thought. And because I needed an extra audiobook I bought it on Libro.fm and locked myself into reading it. Bad decision.
This book is just a pile of tropes and cliches dressed up in some nice nature writing. The plot is not much of a plot and the mystery makes up only a small section of the book, and much of it ends up being courtroom scenes and not much mystery. This book is basically Manic Pixie Dream Girl In the Marsh. We spend a long time with young Kya, abandoned, fending for herself, almost entirely isolated. I was willing to be patient through all that, to see what kind of person she would grow into because that had the potential to be very interesting.
Except it was not. It became less interesting the longer I read. Because Kya doesn't act like a person who has been almost entirely isolated. She just acts like a regular loner. Sure, she may have some habits that fit with her strange upbringing, but she seems to understand people and language just like a regular person. I was nearly out of my head with frustration that the book had spent so long telling me how different she was only to have her be just the same as most people. (Deciding to never love again because everyone leaves you is a pretty regular-person thing to do when you're in your 20's, for example.)
This isn't a book of deep psychological insight. You can probably guess from a couple of chapters in how it will end. (And you would be right!) There are no real revelations, the plot is pretty obvious ahead of time. And it's all rather confusing because there are sections where Owens writes well, her courtroom scenes are actually quite competent, but on both the broad strokes and the specific details nothing here really rings true. And the more time that passed the more I got annoyed with this book so it finally fell from 3-stars to a rare 2-star review. (I usually quit a 2-star book.) If you're going to give me a plot I've seen a thousand times, at least wrap it in some keen insight or character development. But sadly this was a failure for me all around.
MEMORABLE CHARACTERS AND MEMORABLE STORY. For me to rate a book five stars it has to give me something bout of the ordinary, make me feel. Most of all it has to be a book or contain a character or characters that I won't forget. Above all it has to make me feel. This book did all three. Kya, aka Catherine Clark, the Marsh girl is an unforgettable character, abandoned by her mother at she six, her siblings shortly after. By ten she was alone in the Marsh raising herself, her main source of comfort the natural life found in the North Carolina Marsh, the gulls she fed daily. She learned not to trust nor depend on anyone but herself. She was smart, curious, feArless and so lonely. As if this character wasn't enough to remember, there are also some supporting characters that play an integral part in her life. Jumpin and Mabel, a black couple that try to help Kya in whatever way she will accept. Tate, who has known her since she was small, teaches her to read anc much more.
What will one do in the face of such loneliness? How much will they sacrifice if they reach out, trust? Prejudice is a big theme, because as the Marsh girl she is considered illiterate, unclean, and none in the village reach out to help. There is of course a villian, who claims to love her, but marries another, breaking her heart . This is there another thread comes in, a story told in alternate chapters, as when he is murdered , she is accused. Also where another wonderful character comes in, a man, 74 years old, a retired lawyer who comes out of retirement to defend her against a town that already assumes she is guilty.
I could nitpick a few things, but I won't. I loved and learned much about the natural world, a different way of looking at things. On walks I take along the river I will look at things I ordinarily wouldn't. A survival story, what Kya has to do it not easy, but since she has little choice it is what she does. Making the most of what one has, regardless of how little. More than one I had tears running down my face, so this gets five, big marshmallow stars from this reader.
This was mine, Angela and Esils August read, and as always our reads and discussions are something in which I look forward.
Library Overdrive Audiobook… read by
Cassandra Campbell ….
Listening to this book was a 'fantastic' choice!!!
I plan to buy the physical book, too.
I want to re-read many of the sentences – see them in written book form…and own a book by Delia Owens. She's a one-of-a-kind-author!!!
This book could easily become a modern classic!
The prose is so outstanding — gorgeous—
that the smells and visuals of the wildlife — made me feel as if I was there too.
— a world with no walls—
birds, nests, water, shells, mussels, grasses, trees, —
— the *marshlands* – becomes a living character in this story.
Listening to this novel
while being outside —surrounded by plants -birds – squirrels- trees- and water myself- added reminders of respect for the world around us….which those who spend time alone in nature know what I'm talking about: quiet transformative thoughts arise with the beauty of the ecosystems.
Our human energy is tantalizingly free in ways it never is when indoors behind our computers and other technical devices.
The Audiobook narrator -Cassandra Campbell, completely transported me to this world.
The voice of Kya was PERFECT!!!! She used many different inflections for each character.
I wanted to know Tate Walker and Jumper…but it's Kya Clark, who dominant my heart and thoughts. She was not only abandoned by her family – but so many in her town rejected her.
Abandonment as a child – hours upon hours of a solitary life … playing in creeks, climbing trees, mudboarding the surface of the beach waters, digging for crabs, no parents around – is a memory which comes back to me from my own childhood….wandering outdoors…
Kya Clark is tenacious- brave – resilient- an indomitable heroine….but has flaws too…
which made me like her more.
The circumstances of her unfortunate family inheritance is heartbreaking enough…
but to suspect her of a crime… of murder? – it was almost hard to suspend belief.
And so ugly to have a reputation as 'swamp trash'.
And how is it possible – and why – for heavens sake would a little girl kill an older bigger football player, Andrew Chase?
There is suspense in this novel that I didn't expect or know anything about when I started reading this. I had no idea I was about to read about a murder mystery…
not that it's the prime focus.. but… so much about this
book with 'mostly' positive reviews….were surprises to me.
Set in the 50's and 60's….alternating timelines…..around the North Carolina Coast marshlands ….
The 60's is the story of Andrew Chase – his body found dead: who killed him?…and a courtroom case…
The 50's is completely Kya's story – from when her mother left – [The Dominate Story]…..*Kya Clark*!!
It's Kya we can't stop thinking about!!!
Kya couldn't read or write – but there is an inspiring coming of age story in here with a few Guardian Angels – so to speak who are 'for' Kya.
We witness Kya out-shine her neglectful youth. Really emotionally moving!!!
Mystery murder – suspense – coming of age – occasional cuisine meals to remember-
Nature at its best…
Gulls as friends…
Loneliness…heartbreaking sadness –
Human connections…&
Trust issues…
A little romance…
Completely captivating: story & prose!!!!
*Delia Owens* will soon be a household name to readers.
What in the world will she write next?
***I'M SO EXCITED TO SEE THIS BOOK MAKING THE #1 SPOT ON THE NYT Bestseller list, I knew this would be a winner***
Oh how beautifully mesmerizing this book is. I've moved this book to the #1 spot in my list of favorite books of 2018. Thanks to my Goodreads friends Angela and Diane for bringing this book to my attention 🙂
This 5* book is masterfully written, with outstanding character development. That alone would be a great book but there is much more. There is a love story and mystery woven through the story, and add art and poetry to that and you have this incredible book.
Well as to the plot I will give you a little information on that, although you've all probably read the book blurb.
At the beginning of the story we are introduced to Kya, a 6 year old little girl who has already been traumatized for life. Her mother leaves her father and the five children and never returns. Then slowly throughout some years her older siblings leave and then finally her brother whom she was very close to and her drunken father. They leave her completely alone in their falling down shack, no provisions and barely any clothing. She was only 14, she was completely alone and had no idea how to survive, but somehow she does. She has an incredible will and she loves the marsh, it's the only home she's known.
She learns to fish, cook and clean just by remembering how it used to be. Barkley Cove, where she goes for groceries and gas has a store that is run by an extremely kind and generous couple who have lived on the marsh their entire life. She exchanges mussels and then smoked fish for gas for her motor and a few groceries. Mabel gives her used books, shoes, anything that she can get donated. They were her only friends.
Kya has two real love relationships in the book. Tate she has known all of her life but now that she is older she views him differently, she begins to feel real love. He teaches her how to read which opens up the world to her. He is in her life for quite a few years and she seems happy, her life is good. She loves the marsh and all that inhabit it. She collects many things and categorizes them. From the books Tate brings her she learns biology, math, how things grow and change and she is fascinated by the marsh. The author describes the marshland so well I felt myself transported there, felt the humid air, the squashing feel when I walked and encountering all of the creatures described in this book.
It's incredible to think that this could happen but I really think there are those people who live in the marsh. Quoting from the book "this infamous marsh became a net, scooping up a mishmash of mutinous sailors, castaways, debtors, and fugitives dodging wars, taxes or laws that they didn't take to. The ones malaria didn't kill or the swamp didn't swallow bred into a woodsmen tribe of several races and multiple cultures. .. . . . .two hundred years later, they were joined by runaway slaves, who escaped into the marsh and were called maroons, and freed slaves, penniless and beleaguered, who dispersed into the water-land because of scant options."
After being disappointed in her relationship with Tate she finally decides that perhaps she could be more trusting. She shares things with Chase, a boy from town who tells her he loves her, talks about a future. But everyone always leaves Kya.
Then one especially happy day for Kya, she had met with the publishers of her books, two at this time, but gets an awful message from Jumpin' upon her return, Chase is dead. The sheriff is looking for Kya and there are rumors in town that perhaps Chase's death was not an accident.
Oh my gosh this review is too long and there is so much more to say. I don't want to spoil any portion of this gorgeous read. There is beautiful poetry and paintings that I felt I could see. Read this book, you will be wonderfully surprised, entranced and feel great about a book again. Read Kya's story, she will stay with you a very long time.
I received an ARC of this book from the publisher through NetGalley and Edelweiss.
At the time of reading, this book seems to be the most hyped book in my Goodreads feed. Not a minute goes by without a review or update from this book popping up. If you know me, you know that no matter the type of book or the subject matter, if it is hyped I want to give it a go. With that in mind, when I started this, the only thing I knew about it was its hype – I knew zero about the story, genre, type of book, etc. I just had a cover and a title!
Did it live up to the hype?
I think it did. I was entertained by the story and found it very easy to follow. It was a bit of historical fiction with some mystery involved eventually rounding off with a little courtroom drama. One of my favorite phrases to use when applicable is that "heart-strings were pulled", and there was definitely some of that happening here. I think if you like a good, well-told story you will like this one.
Who do I recommend it to?
Historical fiction fans for sure. Especially those interested in mid-20th Century American fiction. Issues of race and public perception at that time are key to the plot.
I am not sure there was enough mystery/courtroom drama to interest fans of those genres if that is specifically what you are looking for. But, there is enough if you just need to satiate a small hunger.
Also, while only a little steamy at times, I think fans of stories with some romance will enjoy this one. Again, if you need a lot of hot a heavy in your romance, you will not find it here, but the relationships in the story should be of interest.
Should you read it?
I feel like this story has a little of a bunch of genres and not too much of any. Because of this, I think it will appeal to a wide audience. So, if you have seen the hype in your feed, too, and have been wondering, I think you should try it out. You may not be blown away, but I don't think you will be disappointed.
Where the Crawdads Sing by Delia Owens is a 2018 G.P. Putnam's Sons publication.
One part mystery, one part legal drama, one part coming of age story, and one part love story- equals a full heartrending poignant tale that will leave you gasping for air.
Barkley Cove, North Carolina- 1969
Kya Clark- aka- "The Marsh Girl' has been abandoned, one by one, by every single person in her life. She lives by the seat of her pants, in a shack, eluding everyone, except a friend of her brother's named, Tate.
Tate watches out for Kya, when he's able, and teaches her to read, among other things. As time moves on, however, despite a deepening affection for Kya, Tate knows he'll have to leave, and go away to college.
While he's away, the myth of 'The Marsh Girl' will solidify forevermore. Kya will face a challenge like no other, and her fate will rest in the hands of the residents of Barkley Cove, with folks who have taunted her, shunned her, and judged her, her entire life.
In 2016-17, there were several stellar novels written, which centered around children or teens raised in a turbulent, 'off the grid' environment, living in harsh conditions and under the care of an unreliable, or unstable father. While they were all quite compelling and effective, I wasn't sure I wanted to tackle another one with a similar theme.
Yet, with more and more high praise pouring in and one stellar review after another posted by readers, I began to regret my decision to pass on this one. So, obviously, I succumbed, and checked it out of the library.
I never doubted the book would be a good one, I just didn't know if I had the emotional strength right at this moment to tackle the topics of abuse and neglect.
But as it turns out, this story isn't really about the escape from an unconventional upbringing, or about the harsh survivalist or endurance skills needed to cope with an unforgiving landscape, as I had originally thought.
While the story certainly drives home the cause and effects of abandonment and the cycles of domestic abuse and violence, this is also a very tender coming of age tale, a story of survival, but also a story of real friendship, true love, and what it means to truly feel free.
Kya suffers a great deal of heartbreak, even from unexpected sources, but seems to have resigned herself to a way of life she believes is really her only true option. But, all of it is threatened when a body is found in the marsh, and Kya's life is suddenly under a white-hot spotlight.
The author does a fantastic job with the ecological descriptions and drawing the reader into the beauty Kya sees in her environment. The rich characterizations, especially with Kya's character study, is another area in which the book excels.
There are layers of thought -provoking topics, and a stunning revelation that knocked my breath out, but for those who are sticklers for realistic fiction, this one stretches the boundaries of plausibility in many places. However, you should allow yourself to go along with it, because that is part of the beauty of fiction, and it is well worth any required suspension of belief.
Ultimately, I was exceedingly glad I gave this book a try. It was everything I knew it would be, but it was a lot more than I anticipated. As a fan of courtroom drama, I enjoyed the trial scenes, and the mystery elements, but of course it is Kya who stole my heart and made me feel envious for to the kind of freedom and way of life she willingly sacrificed so much to maintain.
4 stars
Kya ran to the porch, watching her mother walking down the sandy lane in her fake alligator skin heels, her only going out pair, holding a blue train case. She never wore those heels and she never carried a case. That was the last time Kya saw her Ma. There has been fights before and Ma has left several times but she always came back. Over the next few weeks, Kya's oldest brother and two sisters left too. They were tired of Pa's red faced rages, which started out as shouts, then escalated into fist slugs or backhanded punches.
Her Pa had fought Germany in the Second World War. His weekly disability checks were their only income. Her Pa eventually left her too at a very young age and Kya was all by herself. She lived in the marsh all by herself. She went to school once but she was teased and never went back.
Steve and Benji saw a body laying in the mud. A man was laying flat on his back. Benji noticed it was Chase Andrews. They ride their bikes fast to the Sheriff's office. They let the sheriff know that they saw Chase Andrews flat out in the swamp under the fire tower. They let him know that he looked dead. The sheriff and the Dr. noticed that there wasn't any footprints near the body. None going toward the stairs or away from the stairs, none around the body and Chase Andrews footprints weren t there either. No footprints were found anywhere. This then turns into a murder mystery.
I just loved the setting of this book, in the marsh. I loved the atmosphere and just felt that I was there. The descriptions of the environment, the scenery and nature was just beautiful. I am a bird watcher and loved her descriptions of the birds feathers.
I also loved the mystery and suspense also.
I really loved her writing style. Her writing was so beautuful. I just wanted to savor it.
This was an easy five star rating for me.
It just Wowed me.
I loved the characters. I loved Kya the best. and felt so bad for her having to live the way that she did at a very young age. she was so intelligent. I loved Tate too, who taught Kya how to read and other subjects. I loved the poetry.
I loved Jumpin and Mabel who were heroes.
I could go on and on about this book but I could never give it the justice it deserves.
One of my favorites for 2018?
This was a Traveling Friends read and I thought it was a fantastic discussion. I loved reading this with them.
I want to thank Edelweiss, G.P. Putnam's Sons, and Delia Owens for the copy of this book in exchange for a honest review.
Where the Crawdads Sing by Delia Owens
Normally I would not finish let alone review a book I disliked as much as I did this one, but since I bought the book and am reading it for my book club, I've decided to say what I think:
I found the writing of this romance/murder mystery to be painfully schizophrenic—almost as if there were two different authors: an experienced one for the vivid narrative and an amateur for dialogue and character development (which in fact may be the case, since the author's an experienced nature writer and this is her first novel).
The story is told in two time periods: Young Kya, left alone in the marsh to fend for herself, starts the story in 1952; and police investigate a murder in 1969. The opening lyrical descriptions of the swampland and inner thoughts of the swamp kids had soul—I loved, felt, and smelled the land, sea, air, and dense plants. But when people started talking, the writing became stilted, overwritten, and unbelievable. This happened in the earlier time period with Kya and a boy and the boy and his dad, and same thing with the 1969 police dialogue. The kids' scenes had an after-school TV special sound and the police scenes sounded canned, like a marshlands-of-North Carolina version of Law and Order, where exposition is awkwardly inserted to move the story forward or there is overwriting that takes away from what could have sounded more authentic to the region. For example, a deputy says to his sheriff:
"I'm hungry. Let's go by the diner on the way out there."

"Well, get ready for an ambush. Everybody in town's pretty riled up. Chase Andrew's murder's the biggest thing's happened 'round here, maybe ever. Gossip's goin' up like smoke signals."

"Well, keep an ear out. We might pick up a tidbit or two. Most ne'er-do-wells can't keep their mouths shut."(61)
Why not just, "I'm hungry," and cut to the wonderful description of the Barkley Cove Diner and the scene of people gossiping about the crime?
In real life, people do not say everything they're thinking or narrate everything that's happening or is going to happen. In fact, most of us lie about what we really think—if we are even self-aware enough to know our subconscious thoughts. Leaving out thoughts, leaving gaps in truth, and trusting the characters a writer has created allows subtext and real character to drive things forward. There is none of that here.
I found the character development absurd: Simply put, there are no authentic, complex characters. Kya starts as a believable swamp rat, which is inconsistent with what we learn about the derivation of her parents. Her voice is unbelievably inconsistent throughout the book. Then there are the two one-dimensional romances, one of which allows her to learn to read at age 14 and grow into an educated, sophisticated, poetry-reciting biologist, knowing lyrics to songs she never would have heard, etc., and the other, a sexual relationship where she doesn't even think about getting pregnant although she seems to have learned all her biology from the esoteric scientific texts she reads.
I finished this book by skimming large sections, starting at page 164 when the entire plot became apparent, sans an end-of-book twist which was intellectually fun, but just as unbelievable as the manipulations of Kya's character.
Sorry, friends who adore this book, I'm an outlier on this one, I guess.
5 trilling stars to Where the Crawdads Sing! 🌟 🌟 🌟 🌟 🌟
I am super excited to share this review with you because the book is on my favorites list for this year. The writing is lovely, and the storytelling is brilliant.
Barclay Cove is a quiet place along the North Carolina coast. I tried to imagine this setting and time period, as someone familiar with the area, and I could not quite fit where it was in reality; however, using the author's extraordinary gift for description without being overly flowery, in my imagination, I can perfectly picture the mysterious marsh.
The book begins with the story of Kya, a young girl whose mother walks out on the family, leaving the children to fend for themselves with an alcoholic father who is absent most of the time. Not to mention the fact that they live in the inhospitable marsh as squatters (there are, indeed, small settlements on the North Carolina coast today that were founded my "squatters").
Kya's siblings are older, and they flee, leaving her alone with her father. She learns to care for herself at a young age because she has to. Kya is uneducated by choice and circumstance, though the town attempted to get her to attend at first. Even without schooling, she is sharp and caring, as she learns the ways of life through the marsh and all it has to teach her.
For years, Kya lives this way and is known as the "Marsh Girl" by the townies. When a young man of the same age is found dead, everyone in town assumes it must have been Kya, and fingers are pointed. She has been involved with two young men who were entranced with her, but was Kya involved in the death of Chase Andrews?
Where the Crawdads Sing is a glorious and equally somber coming of age story for Kya. Though she was called to a different life from the one she has always known, how much will her upbringing continue to control who she is? The writing is exquisite, the setting atmospheric on a grand scale, and Kya is a strong and unforgettable character I wanted to hug. Overall, I simply adored this book. I was immersed completely in Kya's vibrant world, and my heart ached at every turn. The ending is memorable, and the messages are strong. Beautiful nature and a captivating story.
Thank you to G.P. Putnam's Sons for the ARC. All opinions are my own.
Stunning, enchanting & emotive!
So before I start off with my review there is something that I must confess to. While reading this novel there was always this niggling annoyance in the forefront of my mind telling me that I wasn't connecting with the third person narrative here. I am not exactly sure what it was for me but that really bothered me that I wasn't able to give this story my whole heart. Regardless of not connecting with the third person narrative I thought this story and the words written were absolutely beautiful though. And in the end after long discussions with my dear friend, Kris she helped me work out my feelings towards this book and come to a few realizations that were pivotal. I am so happy to say that I was able to get that warm fuzzy feeling that I was so desperately seeking from this book.
WHERE THE CRAWDADS SING by DELIA OWENS was an engrossing, moving, heartbreaking and charming coming of age, love story and murder mystery novel all wrapped up into one incredible and delightful story. I was immediately drawn into this quiet and powerful story that revolves around the survival and resilience of an unforgettable young girl named Kya, abandoned at the age of 10 and growing up alone in the marsh. Kya's story consumed my thoughts and my heart totally while I was reading this novel. She had me laughing, smiling, crying, worried and rooting for her every step of the way.
DELIA OWENS delivers an intriguing, atmospheric, suspenseful and beautifully written read here that is so vividly descriptive and absolutely mesmerizing. The descriptions of the marsh and everything that it entails pertains so meaningfully to this story. Unlike Kya, I just wish that it didn't take me as long to come to that realization of how meaningful the marsh was to her whole being and story.
*Traveling Friends Read* This was an awesome group read with an absolutely wonderful discussion and with the help from Brenda and our Traveling Friends I was able to fully enjoy this novel! Thank you friends!
Norma's Stats:
Cover: Eye-catching, beautiful, and an extremely fitting representation to storyline.
Title: Fits the story so well and love how it plays so meaningfully into the story. I also really enjoyed the few lines in the book that referred to the title.
Writing/Prose: Well-written, lovely, eloquent, and engaging.
Plot: Entertaining, thought-provoking, captivating, steady-paced, held my attention and extremely enjoyable. Even though I had some reservations with the third person narrative it did not take away my enjoyment for the story.
Ending: Bittersweet, powerful, rewarding, and very satisfying.
Overall: An outstanding, emotional, memorable, and heartfelt read! Would highly recommend!
I received an advanced copy of this book from G.P. Putnam's Sons through Edelweiss.
Delia Owens is the co-author of three internationally bestselling nonfiction books about her life as a wildlife scientist in Africa including Cry of the Kalahari.
She has won the John Burroughs Award for Nature Writing and has been published in Nature, The African Journal of Ecology, and many others.
She currently lives in Idaho. Where the Crawdads Sing is her first novel.
BIOGRAPHY
Early Years
Delia was born in southern Georgia, and grew up riding horses in the woods around Thomasville. Her mother, also an outside-girl, encouraged Delia to explore far into the oak forests, saying "Go way out yonder where the crawdads sing." Her mother taught her how to hike without stepping on rattle snakes, and most important not to be afraid of critters of any kind. Delia went on to spend most of her life in or near true wilderness, and since childhood has thought of Nature as a true companion. One of her best friends.
Delia's strong bonds with the families of a small town and her close relationships with girlfriends have stayed with her all her life. Her novel is dedicated to three friends she has cherished since second grade. These close relationships and Delia's intimate connections with Nature have influenced her studies and writing.
Even at this early age, Delia loved writing. In the sixth grade of her small grammar school, she won first place in a writing competition, and felt sure this meant she would one day be a writer.
Since her family spent some of every summer in the mountains of North Carolina, Delia has a special attachment to the wild and beautiful places of that state. Where the Crawdads Sing is based in the lush Carolina coastal marsh.
By the time she started university, she had decided to pursue a career in science, instead of literature. She received a Bachelor of Science degree in zoology from the University of Georgia and a Ph.D. in Animal Behavior from the University of California in Davis.
The Africa Years
The Kalahari Lions and Brown Hyenas
In an old, rattle-trap Land Rover, Delia and Mark Owens drove overland into the Central Kalahari of Botswana in early 1974. They set up a basic campsite in an area so remote they were the only two people, except for a few bands of roving Bushmen, in an area the size of Ireland. Very soon the first pride of lions moseyed up to Delia and Mark's camp, and lay just beyond the trees. The Owens radio collared and studied six lion prides for more than seven years. The Blue Pride's territory included the Owens' camp, and Sassy, Chary, and Blue often romped near the Owens' tents or ransacked the outdoor kitchen.
Delia and Mark also studied the elusive brown hyenas, who came into camp almost every night. During these years, Delia became fascinated with the social groups of mammals which are almost always made up of females. The males come and go for mating or meals, but the females stay in their birth groups and maintain strong bonds with their pride or pack mates for life. These observations reminded Delia of the close bonds she had with her life-time girl friends, and how strong the genetic propensity for female groups must be in our own species.
Based on their research and life in the Kalahari, she co-authored the bestselling, award-winning book, Cry of the Kalahari. Her research on the evolution of social denning in brown hyenas earned her a Ph. D. at the University of California, Davis.
The Luangwa Elephants
From the Kalahari, the Owens ventured to the North Luangwa Valley of Zambia to continue wildlife research. Besides studying elephants, Delia and Mark established a program that offered jobs, loans, and other assistance to local villagers so they would not have to poach wildlife for a living.
Soon the elephants felt safe in the Owens' camp and would stroll between their cottages feeding on marula fruits. An orphaned elephant, the Owens named Gift, wandered into their camp one day and took up residence among the bungalows. Several years later she had her first calf, Georgia, and eventually a grand-calf. Once again Delia was fascinated by the fact that the herds were made up only of closely bonded females and their offspring.
Delia set up her own camp on the banks of the Luangwa River, and studied the social behavior of the elephants. Every year, she hiked the five major rivers of North Luangwa, observing the herds. In all, Delia conducted research on endangered species in Africa for twenty-three years. She published her research results in the scientific journals Nature, Animal Behavior, Journal of Mammalogy, Natural History, and others. Her research and conservation work in Africa earned her the Golden Ark award from Prince Bernhard of the Netherlands and the University of California Award for Excellence. The project they began in Zambia continues to this day, funded in part by the Owens Foundation for Wildlife Conservation.
Delia's research on the importance of female grouping in social mammals influenced her fictional writing. Where the Crawdads Sing explores the behavioral impact on a young woman who is forced to live much of her young life without a group.
In The Northern Rockies
After more than two decades in Africa, Delia and Mark returned to the United States and searched for a wild place with lots of wildlife to be their new home. They contributed their experience, time and resources to the conservation of grizzly bears, wolves and wetlands.
Delia now lives in Idaho where she rides her horse and back-country skies as far into the wilderness as she can go. Elk, bears, moose and deer wander the meadows near her home, but every day she thinks of the elephants Gift and Georgia, the Blue Pride of lions and the Bemba people she knew so closely in Africa for so long.
She wants to continue writing fiction, especially mysteries that explore how our evolutionary past on the savannas influenced our current behavior in a world less wild.